11 Useful Jordanian Shows For Levantine Arabic Learners Of All Levels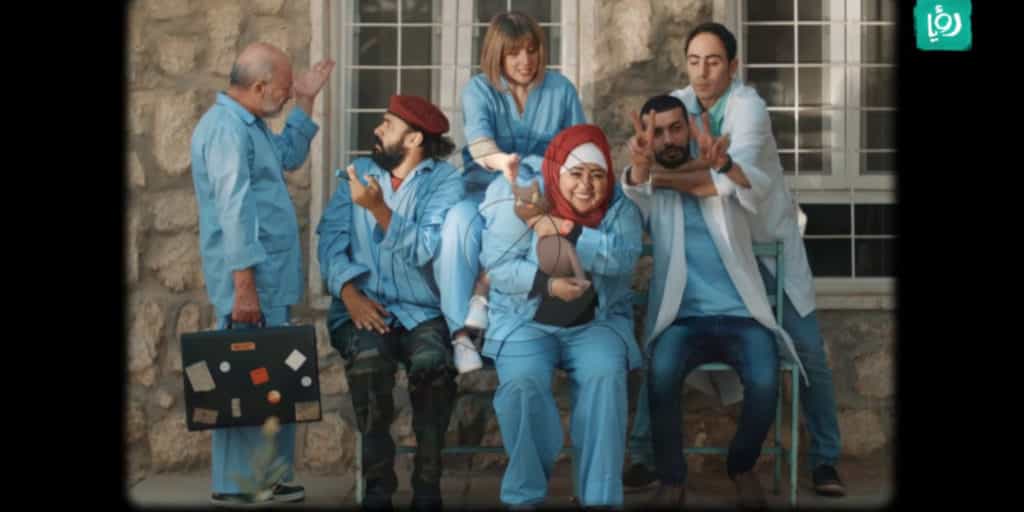 Students of spoken Arabic may find it frustrating that resources in spoken Arabic are not as numerous as resources in Modern Standard Arabic.
However, what is often overlooked is that books need not be the only learning tool in one's language journey.
In fact, watching shows can play an instrumental role in taking your spoken Arabic proficiency to the next level.
Moreover, such shows are in abundance and are readily available on video sharing sites such as YouTube.
In this post, I will share with you the numerous types of shows in Jordanian Arabic that are available to watch without costing you a dime.
But before that, let's check out some of the benefits that you can reap as you watch these shows.
Benefits of watching shows
They're a window to understand culture

Shows allow students to observe the local customs and etiquette during various scenes such as when natives greet each other or when guests are present in the house.
Treasure trove of listening resources

Shows act as a treasure trove of listening resources packed with authentic spoken everyday Arabic and allow you to practice your listening comprehension.
Build your vocabulary bank

It's easy to pick up common phrases that are often repeated throughout the shows.

Mimic those phrases and you'll find that they will stick to your memory without you even trying.

NOTE: These shows are without English subtitles so the goal is not to understand every single words but instead to train your ears to pick up words you already know and to improve on your listening comprehension over time.

Are you a member of TalkInArabic.com?

The frustration of not being to understand every single word in your favorite scenes is perfectly understandable.

If you're a member of TalkInArabic.com, you're in luck because you'll have access to not only the transcripts to multiple scenes from two shows listed below, you'll also have the conversations broken down and explained by a native speaker.

So without further ado, let's check the list out!
Drama Shows

Drama shows are commonly known as mosalsalat and they are in abundance since it is common for new shows to be produced in time for Ramadan every year.

Entire seasons of these Jordanian drama shows are usually available on YouTube.

However in recent years, only snippets are uploaded to YouTube in order to encourage viewers to watch the full clips on the publishers' websites instead.

That being said, the full clips are still available to watch for free.

Although drama shows are essentially scripted, they are still an enjoyable way to practice listening especially for beginners.

Below are the five popular drama series available in Jordanian Arabic.
1) Female

Female is an extremely popular show in Jordan.

So much so that it has a total of three seasons and all of them are available in full on YouTube. In addition, the first five episodes from Season 1 contain English subtitles.

The show is a romantic comedy that revolves around a couple's journey from dating to marriage and to having a baby.

The couple would express their opinions in monologue style and their differing viewpoints of the same situation is often what makes the show relatable and humorous.
2) My American Neighbor

An American writer, Ricky, moves to Amman and with his Jordanian neighbours quickly considering him as family, the show follows Ricky as he experiences his new life and cultural encounters in Jordan.

While this show has a good mix of both Jordanian Arabic and English, it showcases the various aspects of Jordanian culture and customs that may be foreign to non-natives.

In the first episode of the first season, viewers can expect to see the Arabic coffee drinking etiquette as well the gesture of hospitality present in Arab culture where the father of the Jordanian family is obliged to give Ricky his watch as a gift after Ricky has complimented it.

All episodes from the first few seasons were originally on YouTube but have now moved to Roya's website.

This show currently has four seasons altogether and to watch the full episodes, simply click on the link provided in the YouTube's description box where you'll be redirected to Roya's website.
3) Alhub Alhub

This show is a more recent show released in 2017 that features famous Jordanian actor, Rajae Qawas.

The show revolves around the lives of both Jamal, a young man searching for the perfect wife as well as Yasmina, a beautiful girl who is unlucky in love since her relationships always end miserably.

If you're a member of TalkInArabic, you'll be able to access audio clips of a native describing conversations from various clips of this show as well as PDF downloads to the Arabic transcripts accompanied with English translations.
4) 3asfuriyeh

This humorous and light hearted show takes place in a psychiatric hospital run by a doctor and his assistant.

The series revolves around the daily interaction between the doctor, his assistant and the group of patients who suffer from different psychological disorders.

The full episodes used to be available on YouTube but have now moved to Roya's website where you're still able to watch them for free.
5) Luqmet al 3eish

The show revolves around the personality of a young man named Alia who deals with life and people with complete honesty. In his search for a job, he meets a businessman who employs him and is impressed by his honesty.

Alia ends up marrying his sister only to realise that she is mute and her inheritance rights taken away by her brother.

This is an older Jordanian drama series produced in 1991 and all of the episodes are available to watch on YouTube.
Monologue style shows
6) N20 Comedy YouTube channel

These monologue style short clips are a big hit in Jordan due to the way the actors are able to discuss problems and stereotypes present in society in a relatable yet humorous manner.

Such clips feature famous Jordanian artists such as Rajae Qawas, Nikolas Khoury, Nadim Masri and Rawsan Hallak, just to name a few.

N20 Comedy YouTube channel is filled with these videos and is a valuable channel for advanced learners and beyond.

Do note that some of their videos in the channel are in Egyptian and Saudi Arabic so if you're learning Jordanian Arabic, be sure to watch only the ones that feature Jordanian artists.
Animated Cartoon Shows
7) Rajae Kaen Fadhaee & Rajae Kaen 3idaee

In the first season, the character Rajae played by famous Jordanian actor, Rajae Qawas, is portrayed as someone who is morally upright but naive towards the ugly realities of life.

His good intentions are often misunderstood and Rajae ended up accused of being an alien for not understanding how the society works.

In the second season, Rajae is instead portrayed as the bad guy who commit unkind and stealthy acts, thus being part of the reason why society is in such a messed up state.

This show ultimately pokes fun at the typical behaviours and mindset that exist in Jordanian society and is a good way for Arabic learners to learn more about Jordan and its people.

Both seasons are available on YouTube.

If you're a member of TalkInArabic, you'll be able to access audio clips of a native describing conversations from various clips of this show as well as PDF downloads to the Arabic transcripts accompanied with English translations.
Talk shows & Interviews

What I love about talk shows and interviews is that they are less scripted than the other shows, thus providing learners a more realistic view on how natives speak on a daily basis.

Since each episode of the talk shows often focuses on a specific topic, watching talk shows is a great way to expand the breadth of your vocabulary.

If you're feeling stuck in the intermediate plateau, talk shows and interview style shows are useful resources for you to get unstuck and overcome the plateau.

Exploring topics that are less familiar will get you back to feeling that you're learning something new and making progress.

Most of these shows can be found on Roya's YouTube channel.
8) Laylat Khamis

The talk show consists of four famous Jordanian artists as hosts - Rajae Qawas, Nadim Masri, Mahmoud Darwazeh and Sharif Al Zoubi.

The first half of the show starts with the men discussing various topics while the second half of the show consists of interviewing local celebrities such as famous musicians and actors.
9) Caravan

This entertaining and interactive talk show brings different guests to be interviewed and to discuss various topics. Games and Q&A with viewers are also common features of this show.

There are currently 13 seasons and this series is a valuable resource for intermediate students and beyond.
10) Donya Ya Donya

This talk show has its own YouTube channel and its playlists are conveniently categorized into various topics such as fashion, motherhood, technology, humanities and the arts.

Experts of the specific topics are brought into the show and interviewed in a casual manner.

This show is a must watch for advanced learners wanting to expand the breadth of their vocabulary.
11) Street Jokes

This show is exactly as the title states.

The host hits the streets and asks locals to tell a joke or two.

Most episodes are filmed in Palestine but you'll also find some that are filmed in Jordan.

This show is a great way for advanced learners to pick up some jokes which can then be used to spice up conversations with natives and earn brownie points.
BONUS
12) Ex in the City

This series of short clips is a bonus because it is in English and is narrated by an American named Brett Weer, who is the same man who acts in the drama show, My American Neighbor.

Ex in the City is filmed in the popular monologue style format and allows beginners to gain a better idea of the various quirks and customs in Jordanian society that are not present in western societies.

Besides learning simple common phrases and the ideas behind them, this show provides a peek into Jordanian culture.
Conclusion

There are many more Jordanian shows available on YouTube and it is easy to stumble upon other shows due to YouTube's recommended algorithm.

Nevertheless, the two most valuable YouTube channels for Jordanian Arabic learners are Roya and N20 comedy.

Listening practice is an important component of language learning and hopefully this list will help you to choose a show and get you started on utilizing shows as part of your learning journey.

If you find that the actors' speech in the show is too fast for you, remember that you can always take advantage of YouTube's playback speed control feature. Simply click the settings button at the bottom of the screen and choose a suitable speed (0.75 or 0.5) under the "speed" option.

Beginners will find drama shows the easiest to comprehend while those at the intermediate level and beyond will benefit from the numerous talk shows that tackle various topics in depth.

Happy watching and learning!
---
This post was contributed by Harilyn Tahir.